Also, Pushmo set for December, and Sakura Samurai is coming in January.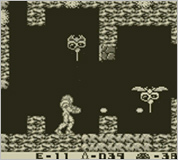 Metroid II: Return of Samus is coming to 3DS Virtual Console on Thursday, and two new original eShop titles are on the way soon, according to a Nintendo press release.
We already reported on Metroid II's European release, which was also confirmed via press release this morning. Metroid II originally came out in North America almost exactly 20 years ago.
Pushmo, known in Japan as Hiku Osu, is coming out in December. It's a 3D block-pushing puzzle game from Intelligent Systems. It came out in Japan in early October and you can check out some impressions of the game here.
Lastly, Sakura Samurai: Art of the Sword was confirmed for a North American release. This samurai combat game came out in Japan last week under the name Hirari Sakura Zamurai. You can read first impressions of the game from our team in Japan here.