Two Tribes has begun work on Toki Tori 2.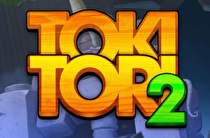 Popular puzzle platformer Toki Tori is getting a sequel Two Tribes announced. Toki Tori 2 is currently scheduled for release on Steam sometime next spring. Two Tribes also has plans to release the game as a downloadable title for other platforms, including Nintendo and iOS devices.
The first Toki Tori was originally released in September 2001 for Gameboy Color. Since that time, Two Tribes has re-released the game on multiple platforms, including WiiWare, Steam, and iOS.
Those interested in the game can follow the development process on Two Tribes' blog or on their Twitter. Two Tribes will also be making 200 copies of the development version of Toki Tori 2 available on Steam. If you would like one of the copies just write to tokitori2@twotribes.com, but remember the activation codes are currently limited to 200.