The 3DS port of the next portable Harvest Moon game is oddly a western exclusive.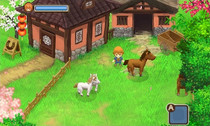 The upcoming 3DS release of Harvest Moon: Tale of Two Towns is only coming to North America and Europe, a representative from Natsume told us.
The game, originally made for DS, came out in July 2010 in Japan. The DS version is coming over to North America on September 20, while the 3DS version, a 3D-enhanced port of the other version, is due out in October. The European release date for the game has not been announced.
Check out our impressions of the 3DS version from E3 2011, and look forward to our preview on the game coming soon.