The PAL sales of the Operation Rainfall games will influence localization decisions.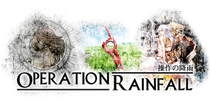 Nintendo of America is closely watching the sales of three highly-requested RPG games in Europe, to gauge their potential for North American localization.
The games in question, Xenoblade Chronicles, The Last Story and Pandora's Tower, have been the cause for much petitioning against Nintendo of America due to the fact that all three are slated for an English release in PAL territories, yet there are "no plans" to release the games in North America. A fan-based community of protesters rallied together under the name Operation Rainfall in a campaign to convince Nintendo of America to change its mind about the releases. Little has been said by Nintendo in response to such requests.
In an interview with IGN, Reggie Fils-Aime was questioned about the status of the games in America. "We will be watching very closely what happens in Europe," he said. "Certainly if there are business opportunities and positive consumer uptake from some of those titles, that will be great data for us to consider as we look at what to do with these titles."
From this, we can at least glean the fact that Nintendo America has no intention of simply ignoring these games. It is now up to the PAL public to show that they truly intend to buy these games as promised, proving the US localization a worthy cause.