A programmer named smealum is working on porting the popular PC game to the DS.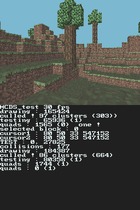 A programmer going by the name smealum has begun work on porting Minecraft to the Nintendo DS. Those with a flashcard can go to the website DS-Scene and download an early build of the port of the popular PC game.
Currently, the demo is little more than map viewer. If it is developed further and becomes popular, it is possible that Mojang, the original developer, could pursue an official port. Both iOS and Xbox 360 Indie Games had Minecraft clones before the game was officially announced for the platform. A significant difference remains, however, in that both the iOS and Xbox 360's Minecraft knockoffs were being sold for profit and were built with official developer tools.