Video gaming's most popular defense attorney will hit Japanese screens next year.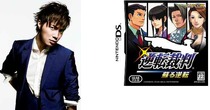 A movie based on the Ace Attorney franchise is in production for Japanese cinemas, Capcom announced today.
Actor Hiroki Narimiya will be playing the role of Phoenix Wright, Takumi Saito will play the role of Miles Edgeworth, Phoenix's prosecutor rival, and Mirei Kiritani will be playing the role of Maya Fey. No other characters from the series or actors have been announced.
The Ace Attorney movie is scheduled to be released in the spring of 2012, and will be distributed by Toho Inc. Other Capcom movies in the works include another computer-generated Resident Evil film, Damnation, and an animated film based off of their Sengoku BASARA series.