Ace Attorney Investigations 2 will not be localized.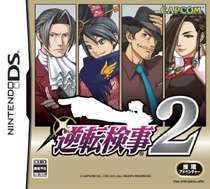 In a recent Capcom Q&A video, Christian Svensson was asked "Is Ace Attorney coming to the US?" His answer was, "I assume that means Ace Attorney Investigations 2. The answer is 'no.' Sorry about that." After several days of distraught fans posting on the Ask Capcom forum thread asking for more details, he elaborated on his earlier comment.
"The costs of localization are higher than the forecasted return. And no, it wouldn't sell more than Okamiden (which has already sold more than the first Investigations). Could this content show up on some other platform somewhere down the line? Possibly, but there's nothing on that front for me to talk about. I realize there are fans who would like to have this and I'll be sure to explore ways that could happen viably in the future with our strategy and R&D teams but no promises."
Ace Attorney games have been ported to Wii, PC, and iPhone, and even the first three Phoenix Wright DS games weren't the original versions, being ports of Japan-only GBA games, so Svensson's comments leave open the possibility that the Miles Edgeworth sequel will be retooled for 3DS or Wii in the future.