You can obtain Victini, a Psychic/Fire type who is not available during normal gameplay.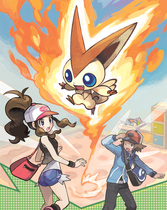 Victini, an exclusive Pokémon, will be available courtesy of the Liberty Pass, which will be available for download in Pokémon Black and White from its launch on March 6 until April 10.
To find Victini, players must use the Liberty Pass to access Liberty Garden Island, which is located in the southwest region of Unova. They must fend off Team Plasma in order to have the chance to capture Victini, who is a Fire and Psychic-type legendary Pokémon.
Dubbed the Victory Pokémon, the creature has the Victory Star ability, which boosts the accuracy of all of a player's Pokémon in battle.
Pokémon Black and White is set for a March 6 release in North America.