We want your words!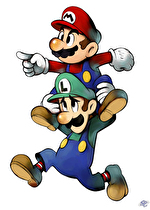 Neal's blog today about Super Mario RPG's lasting influence on his life led to some extensive, interesting recollections from some of you in the comments.
The rest of the staff will weigh in with some of their personal opinions on the Mario RPG series later this week, but in keeping with the theme of Neal's blog, we're giving you the floor to express your thoughts on any aspect of the Mario RPG universe.
Leave a comment of any length below—it can be about a certain Mario RPG character, game, series, quality, or something else entirely that you feel strongly about. Near the end of the week, we'll curate and post some of the best submissions, so get yours in soon!