Just like at E3 2012, the game is listed for holiday 2012, much like the Wii U itself.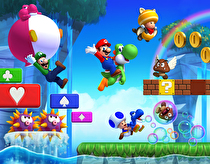 UPDATE: Kit Ellis told GoNintendo that his comment was a mistake, further proving that there is no need to doubt New Super Mario Bros. U as a potential launch title.
Recently, a comment by Nintendo's Kit Ellis has sparked fear in Nintendo fans. "So that's a look at New Super Mario Bros U, coming out for Wii U not too long after launch," Ellis said to IGN during a Comic Con demo.
This seemingly contradicts comments from Nintendo of America President Reggie Fils-Aime, when he made comments about a Mario game making the system launch. In fact, Fils-Aime's remark could be more like the equivalent of Activision CEO Eric Hirshberg's comment regarding Skylanders Giants on Wii U. At E3 2012, when I asked numerous Activision reps about Hirshberg's comments, no one would say a word about it.
If you look at Nintendo's press materials for New Super Mario Bros. U, the only release data mentioned is "holiday 2012," which conveniently enough, is the same time frame given for the Wii U itself. A Nintendo representative told us that "there is no change from the launch timing on New Super Mario Bros. U than what we communicated during E3."
So, according to the most recent release information, New Super Mario Bros. U is set for a holiday 2012 release. Which is the same window it was set for at E3 2012. Which is the same window set for the Wii U system.
Furthermore, Takashi Tezuka, producer on the title, mentioned several times in an E3 2012 Iwata Asks that New Super Mario Bros. U is a launch title.
There's always a chance New Super Mario Bros. U might miss launch, but until we hear firm details about the game and the system it will debut on, there's no need to panic.