CRUCIO!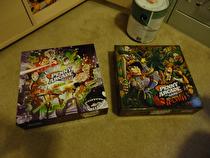 Welcome to my new weekly column, which will focus not necessarily on games themselves, but on gaming-related things. For example, this week's maiden voyage focuses on a new card game my friends and I play quite often: Penny Arcade's Gamers vs. Evil. Enjoy!
It's labeled as a "deck building game," but that doesn't mean you have to buy booster packs and increase your collection of cards to ridiculous levels (ah, memories). Instead, it just means you build your own deck during the course of gameplay.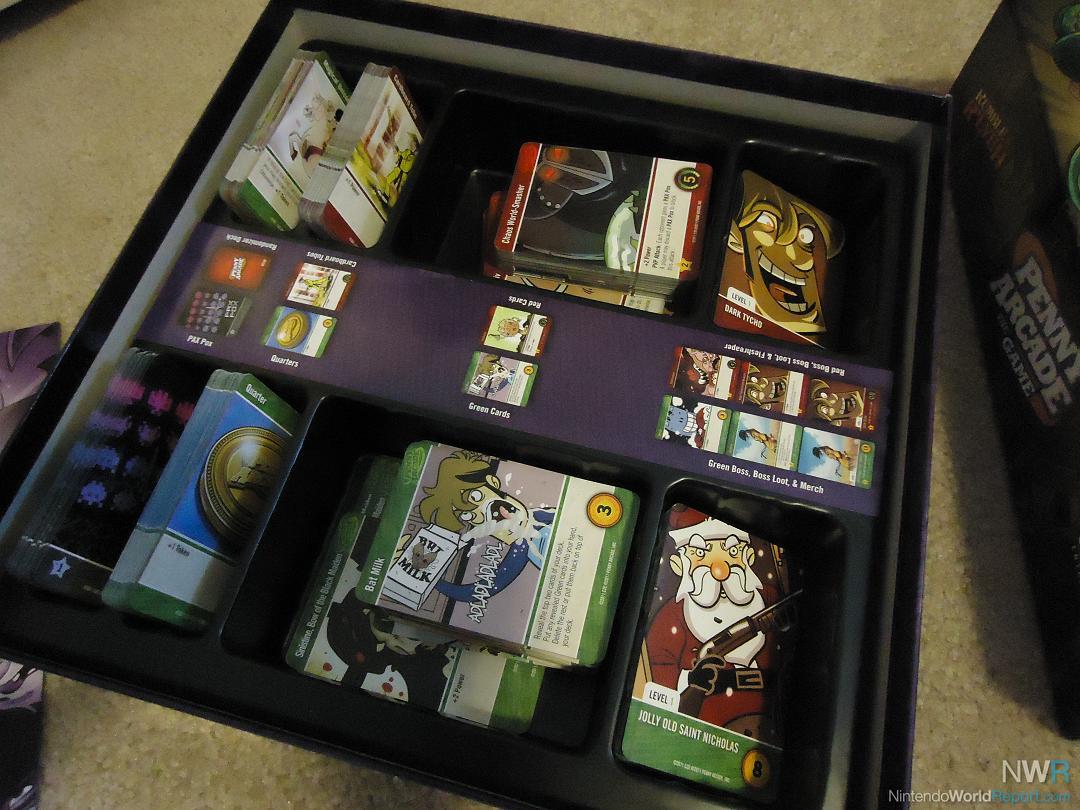 Here's what's in the box: a lot of cards packed into a cheap plastic frame. Lots of wasted space here, but it does provide some organization.
Players set up a central group of card stacks (we use 14). Each stack is the same card and, of course, references some Penny Arcade lore. You'll find cards named after "Touch Wieners," "Werewolf in a Top Hat," and the mighty "Sorcelator." Cards are categorized based on color: red or green. Green cards (generally) boost a player's "tokens" while red cards (generally) boost a player's "power." Each card has a specific cost; you must pay—via discarding—that much token or power to buy the card and add it to your deck. See how the deck building works?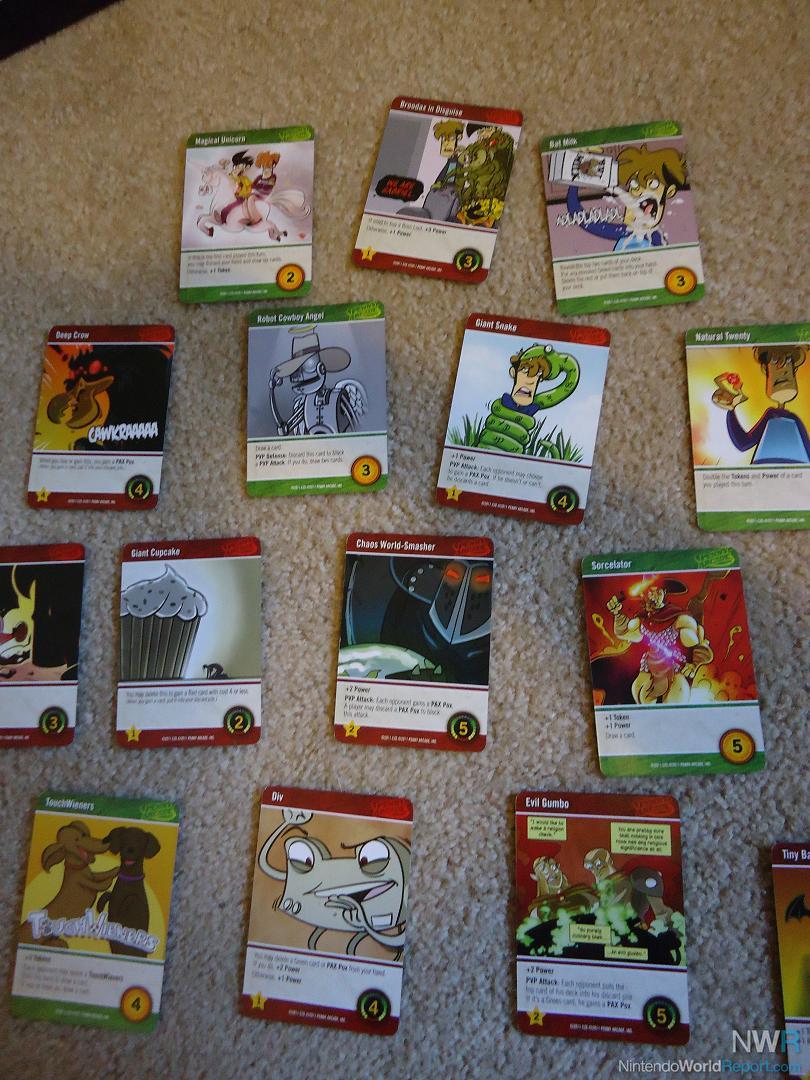 Here's just a taste of the cards for that central pool. Look, it's Div! All of these cards give bonuses or PVP attacks (or both).
Players start out with a character card—which bequeaths special abilities—and some basic resources called Cardboard Tubes (power) and Quarters (tokens). You'll use these initial cards to start buying more cards. While certain cards do allow you to attack other players, your goal is to purchase cards with high victory values. Some cards don't have any victory values, while others have a ridiculous amount. Purchased cards, in general, simply give you more tokens or power. You might buy a Fleshreaper, for instance, who gives you +2 power. On the other hand, the Merch gives you +2 tokens. The highest-priced cards may give you +3 power and +3 tokens. After a certain amount of time, you'll be flush with tokens and/or power, which may depend on your character's abilities.
For the record, Rex Ready—though awesome—is a terrible character.
Eventually you'll be able to buy Boss Loot. Boss Loot is a secondary goal in the game, and one of the ways you can end the game. Boss Loot is expensive—increasingly expensive as more is purchased—but often gives game-breaking bonuses: an unblockable PVP attack, for instance, or the passive ability to gain bonus power every turn. Interestingly, green Boss Loot, when played, forces one to roll an included d20 ("for initiative"). The outcome determines the card's effect. Once all a given color's Boss Loot is bought up, the game ends. The game also ends if six stacks from the central area are emptied. Once that happens, players go through their decks, counting their victory points, and whoever has the most wins!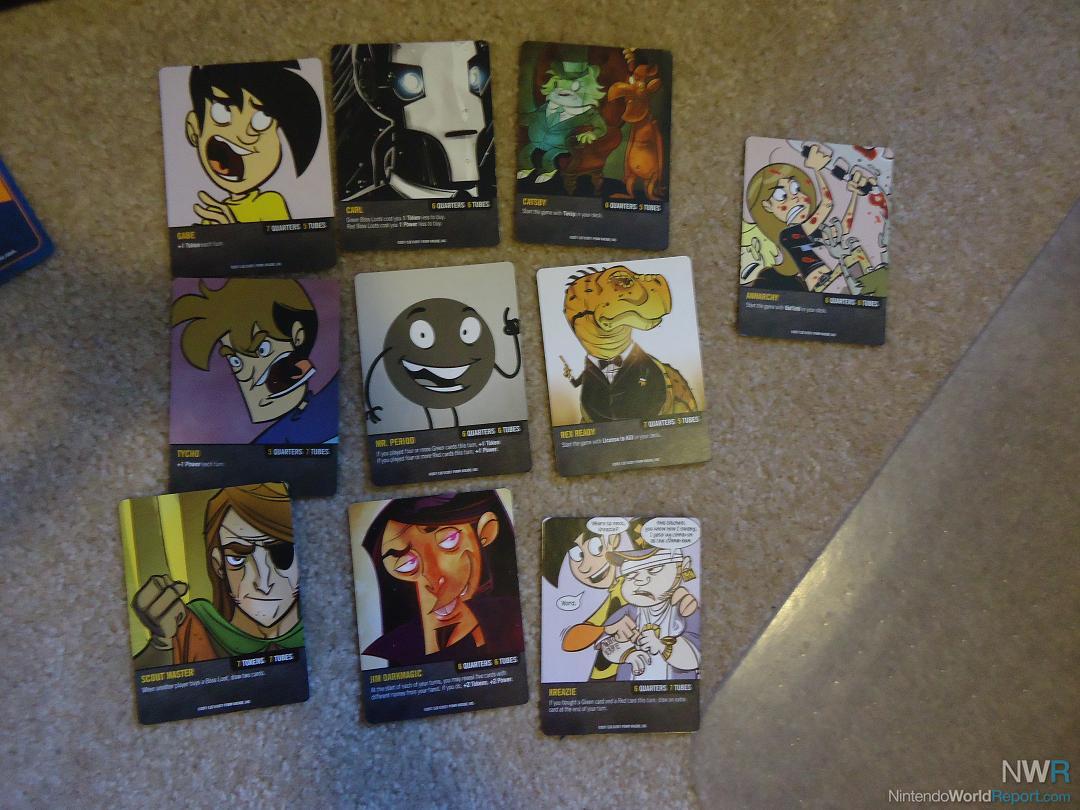 Here are the character cards from the original game. Gotta love Carl.
All this sounds pretty straightforward, but it quickly turns strategic. Do I want to spend my tokens and power on high-value cards or cards with good abilities so I can later buy high-value cards? Do I want to focus on screwing everybody out of Boss Loot? Do I want to buy cards with PVP attacks and force my opponents to take on way too many PAX POX cards (which actually subtract from your victory total)? For the record, that last option is way too fun. The game comes with lots of PAX POX cards, and we've run out a few times. PAX POX cards are basically dead weight, although there are ways to get rid of them. One particularly awesome PVP attack forces your opponents to balance a PAX POX card on their heads until their upcoming turn is over. When that happens at my house, it becomes a contest to see who can stay absolutely still and keep from laughing at the attacking player's jokes, quips, or sudden distractions.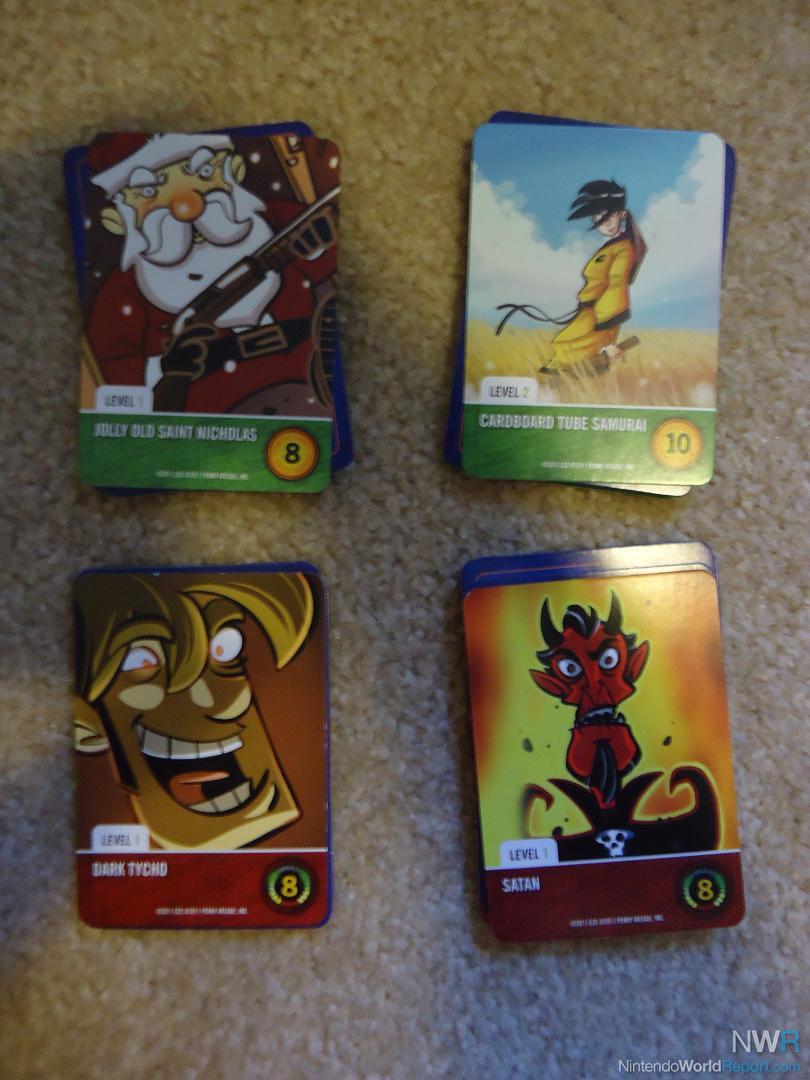 And here are the Boss Characters (and their loot beneath). Irritatingly, my friends (who are somewhat religious) don't like playing with Satan even though it's a cartoon representation of a conceptual religious villain. Actually drives me a little crazy. I'm shocked that Jack Thompson isn't a boss character, actually. Isn't he the GAMER Satan?
The first expansion set just came out, although it's more like an alternate full game, and the cards from both sets can mix and match. It's called "Rumble in R'leyh," and adds a new card type: gold cards. Gold cards are powerful and have high victory values, but cost tokens and power to buy. You'll often find yourself with enough power or tokens to fulfill one side of the equation, but not the other. Although there have been times where my friends have basically combo'd enough card abilities and character abilities together than they were able to buy, like two gold Boss Loots in one turn—which is not something you want to see (as an opponent).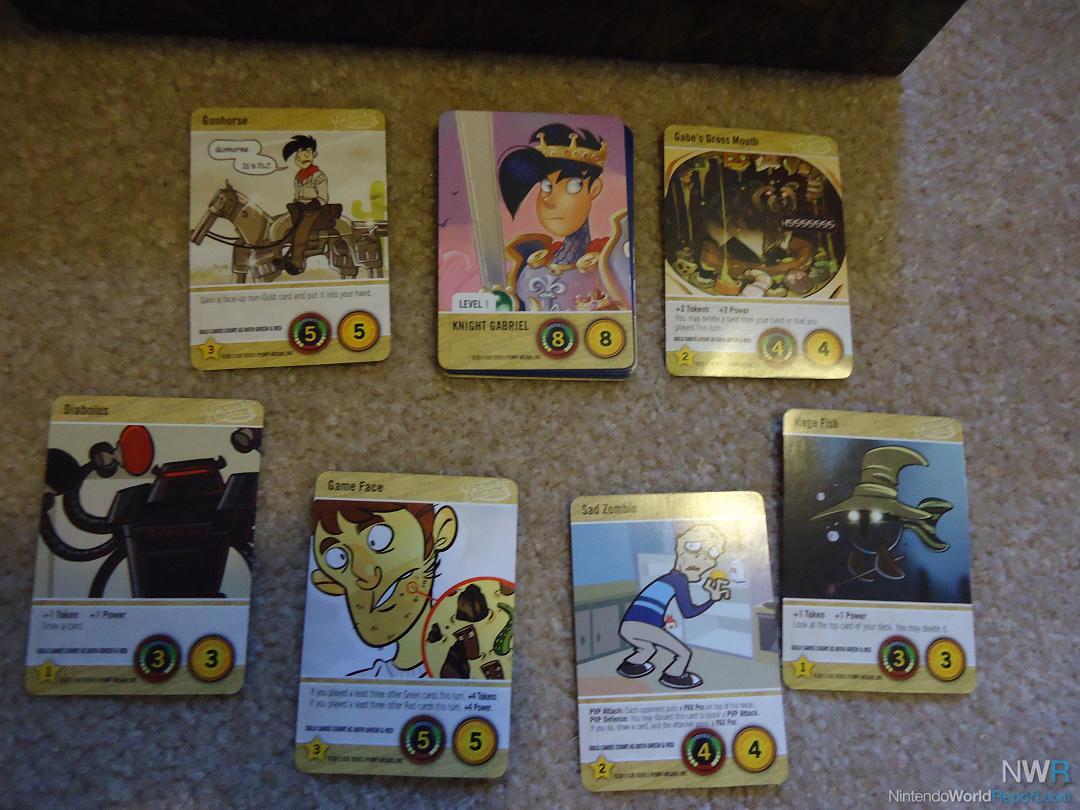 Gold cards! These will probably be in New Super Mario Bros. 2, but without the Gunhorse (it's DLC). While these cards are pricey, they provide mad skillz to their owners.
The game itself is insanely fun and leads to some real dick moves on the part of your so-called "friends," but it's always in good fun. From setup to cleanup, it takes about an hour to play a whole game with four people, and I do recommend playing with a full complement. While probably cheaper on Amazon, Gamers vs. Evil and Rumble in Rey'leh cost $45 apiece in a store. You basically get a ton of cards, instructions, and a very cheap d20. I've actually replaced the bundled d20 with one my awesome D&D d20's.* And of course there's the great Penny Arcade memories associated with every card. Remember the Deepcrow? Good times. Supposedly, there's going to be an iOS version of the game "coming soon," which could be a great asymmetric multiplayer experience.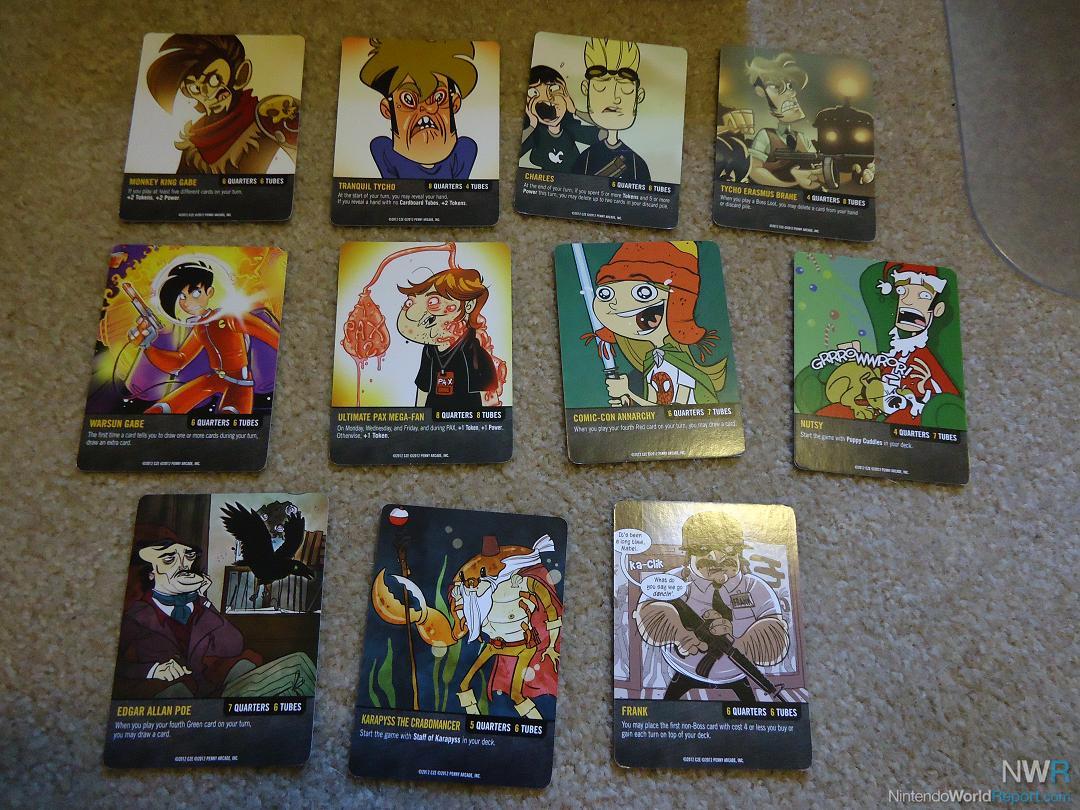 And here are the characters from Rumble in R'lyeh. I should note that the cardstock for these character cards (but not the normal cards) is much better than in the original game. KILL IT YOU'VE GOT TO KILL IT!
There are some chinks in the armor, however. My biggest problem with both sets is that the cardstock is nowhere near as thick as it needs to be. You will see frayed edges and, possibly, creased cards after your very first playthrough. Free Vegas playing cards are of better quality than these. This is especially alarming after getting used to, and spoiled by, Fantasy Flight's excellent two-player Penny Arcade game. Those cards aren't just thick—they're woven. They make every other card game their bitch. So when you come across Gamers vs. Evil and find cardstock that's about as resistant as a business card, you get a little disappointed.Despite that, the game is really fun and I highly recommend it if you like tabletop card games. It took us about half a game to figure out how to play, and it provided an excellent training ground for another card game I'll get to later, the Resident Evil deck building game.
*Don't judge me.