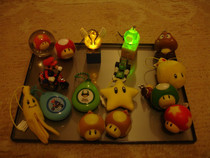 I started noticing that these "toy egg" vending machines were everywhere in Japan, not only in arcades and videogame stores, but even supermarkets and shopping malls.
More often than not they were tiny figures or toys from various animes, that most people outside of Japan have probably never even heard of.
However' one out of every twenty or so I'd spot a rare Nintendo-related treat.
The beauty of them is that they aren't cheap-looking knock-offs; they are Nintendo approved, and therefore look exactly like they should (most of the time).
It started off innocently enough: a Super Mushroom-shaped key-ring for my house keys. A valid purchase, but one that quickly led to the desire to have another for my bike key, my spare key and anything else I could think of.
So next came the Golden Mushroom, Mega Mushroom, Bullet Bill and the banana skin, and before I knew it I'd gotten the whole set. I guess I was pretty lucky that I'd got a different one every time I dropped my money in and turned the dial to get my fresh egg of goodness.
It's not always like that however, as I quickly learned with my next obsession: magnets.
First it was an awesome-looking superstar to hold a couple of photos on my fridge, but this again soon led into wanting the whole set; however, this time I wasn't so lucky with my prizes. Now every time I go to get some milk, I'm faced with six angry-looking Bullet Bills to remind me of my failure.
But I didn't stop there. After that it was Mario Kart miniatures to celebrate the release of Mario Kart Wii. In my attempt to get a full set I ended up with two Marios and three Bowsers.
Then something hit me, like a rebounding power ball to the face. The other day I bought a mini-replica of a Nintendo DS complete with a tiny DS cart. I just paid 200 yen ($2) for a thumb-sized version of a console I already own, but actually does nothing at all...what the hell am I doing here?!
Heck, I even considered dropping however much it took to get the complete collection of miniature games to slot into my tiny handheld pretend system.
I'm a freaking gachapon addict!
Now I'm not sure if I should reduce my gatchpon habit to one a month, or just go cold turkey and stop looking at gachapon machines altogether.
Then again, I did see an awesome-looking mobile phone screen wiping cloth in the shape of a Goomba the other day...