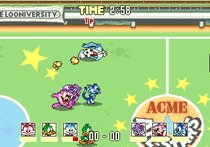 I don't know if anyone has ever said yes to that question and I don't understand why. It contains, in my not-so-humble opinion, one of the best soccer games of all time.
For the uninformed, Tiny Toon Adventures: Acme All-Stars is a Konami-made sports game for the Sega Genesis that stars Warner Bros' lovable Tiny Toons. The game is a series of sports ranging from soccer and basketball to bowling and whack-a-mole. When I was younger, my friends and I would play lengthy tournaments and fight over who would get to play as the speed demon Little Beeper or the defensive powerhouse that is Furrball. Over this past summer, I pulled the game back out and a whole series of new and more competitive tournaments ensued, including one that ended in a last second tie and a shootout.
I can't truly explain what makes this game so great. It is a very simple game but in that simplicity hides great strategy. Maybe it's not as technical as your FIFAs and Pro Evos, but the soccer section of Acme All-Stars stands as my first experience in a genre that I think should get more respect: arcade soccer.
This genre later produced such great games as Sega Soccer Slam (for Gamecube, Xbox, PlayStation 2, and as of tomorrow, Xbox Originals on the Xbox 360) and the Mario Strikers series. Those games also produced a similar fervor amongst my friends and me.
Has anyone else played a game that caused a similar zest? Has anyone ever played Acme All-Stars?
Note: This same enthusiasm was also displayed by my friends and I towards Tecmo Super Bowl except for the fact that one of my friends is basically the player equivalent of Bo Jackson.