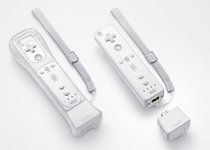 Nintendo had to recognize that the "mass appeal" of the Wii got them a lot of coverage way back in 2006, and that it contributed to the mass media frenzy. So, I had expected yesterday's show to cater to "journalists" from venues like The Today Show (it isn't a news show, I don't care what NBC says, any show with Kathy Lee Gifford is not a news show) rather than those from "gaming" outlets. That doesn't mean I didn't hold out hope for something "core gamer"-centric.
I held out hope that the Kid Icarus rumor was true; IGN had staked their reputations on it by repeatedly hinting that Factor 5 is developing the title and hinting later that it would be at E3. I figured that Reggie had to mean something when he said that "core gamers would be pleased."
I still don't know what he meant. When the Wii MotionPlus was shown the day prior to the press conference I figured that it must not be their "big" announcement, and they want to get the device out of the way so they can show the game that will feature it. I figured it would be a "casual" title, but I also figured there was going to be a less casual counter-part shown (my guess was Star Wars The Clone Wars: Lightsaber Duels or Red Steel 2).
I knew there would be a glut of "casual" titles. That didn't bother me. I know that they've been good to Nintendo, and just because they're "casual" it doesn't mean they're bad. Wii Sports is a lot of fun. The new Wii Sports could be too. At the same time, I knew that the Wii Music demo shown way back in 2006 was out of date in the world of Guitar Hero. I know they're not the same "type" of music game, but people now have expectations, justified or not. I'm still not sure what to make of what I saw yesterday. I saw a game that, in order to fully experience, I need to procure a Balance Board (which is still next to impossible to find) and the new MotionPlus remote add-on.
To be honest, the two things that stand out most from yesterday's event seem as if they were custom-designed to annoy me.
First, of all third parties Nintendo could have picked to start things off with, they picked Ubisoft. Now, my distaste for Ubisoft as of late has become something of a running joke, and while I often exaggerate, I do feel like Ubisoft has proven to be a lazy publisher. Their most recent efforts indicate that they only want to make a quick buck at the expense of Nintendo. Their lackluster titles are not "casual," they're cheap.
If the DS and Wii are really "expanding the market", does Nintendo want the first games these new gamers play to be at best sub-par? Of course not. To "expand" the market they need to hook new consumers. Ubisoft has not put out a solid effort on Wii since launch; as such Nintendo should have left them to their own press conference. Think of the other publishers Nintendo could have picked. Yes, I understand they wanted to show the balance board, but there has to be a better game to do it with. If I wanted to see Shaun White "shred it" I would watch snowboarding competitions. That entire segment was painful. He seemed disinterested and inexperienced with the very game that bares his name.
Secondly, I've always bemoaned Nintendo's self-congratulatory segments. I know they mix them in very heavily every year, but this year it just seemed so much more omnipresent. Every game discussion was wrapped with "marketplace perspective." We get it; the DS has sold a lot of units. Five minutes to say that is beyond browbeating. To make it worse, this bragging provided me the second memorable moment of this press conference: the "key franchise" Pokemon. The fact that Pokemon Mystery Dungeon 2 sold 600,000 copies in six weeks is sad, because it is not a game of which Nintendo should be proud. It is not a good game.
So, what did I get from this press conference? Not much. Yes, Nintendo is going to offer voice chat in games, but I've had that on the PC for almost a decade. Yes, the MotionPlus could be cool, but the advantages didn't seem to be fully explained. I need to see how more games than simply WiiSports use it. Why do I need this versus just a standard WiiRemote? Who else (aside from Nintendo) is using it?
I just hope things get better on the floor for "core gamers." I guess I just have to wait and see, but right now I'm not holding out a lot of hope.