by Donald Theriault - 6:05 am EDT
Total comments: 3 Source: Nintendo
Worry about the DDT, because once that hits, that's when the snake comes out.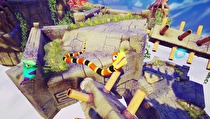 The Switch picks up two major games this week on the North American bent, and we have three reviews for them. Longtime friend of the site Justin Nation and yours truly tackled GameStop-exclusive retail release Has-Been Heroes, while Casey slithered through Snake Pass at a rapid rate. Might want to watch for the rumble on the latter, though Sumo Digital is cranking through a patch for it.
Read more...