Three classic RPGs in various states of English.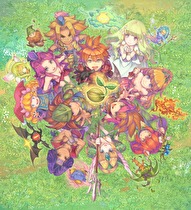 The Seiken Densetsu Collection was announced overnight, a collection of the first three games in the action/RPG series, The first title was released on the Game Boy was released as Final Fantasy Adventure / Mystic Quest and the second as Secret of Mana, while the third game was not released outside Japan and was an early fan translation effort.
The collection will launch both on card and the eShop June 1 for 4800 yen+tax. Supported languages have not been announced, but the GB game will have graphics options and the second and third will support 3 player co-op. Quick save and a jukebox mode with music from all three games will also be available.