Whether you get the card or the initial download, a microSD card may also be required. UPDATED with WB statement.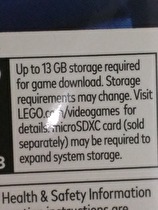 UPDATE: Warner Brothers has issued a statement to Eurogamer stating "Players who purchase Lego City Undercover on Nintendo Switch at retail do not need to download the game to play." Original story follows.
Although the eShop may indicate a 7GB download, LEGO City Undercover on the Switch will have a big update coming with it.
Retail packaging for the game has come out and according to NintendoEverything the package indicates a requirement for up to 13GB of storage even for the physical copy.
The eShop version of LEGO City Undercover for Wii U was just under 20GB, and it is not known how much of the game is actually on the card or in the initial Switch eShop download.