There will be an update, but it won't be 13GB.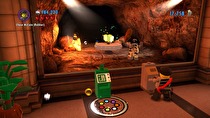 Warner Brothers has issued an updated statement about LEGO City Undercover's size requirements and is blaming misprinted box art for the confusion.
The statement reads as follows:
The information is listed incorrectly on the packaging of LEGO City Undercover for Nintendo Switch. Players who purchase a physical copy of LEGO City Undercover on Nintendo Switch at retail are getting the complete game, and do not need to download additional content to enjoy the full experience. An internet connection is not required to play the game. The only internet connection suggested is to download the typical content update patch.
We will have more details on the game's install once we can secure a copy.