The process has apparently been refined.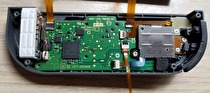 Nintendo has issued an amended comment regarding sync issues with some of the Joy-Con controllers.
In a statement issued to Kotaku, Nintendo has identified a variation at the factory level which has been corrected.
There is no design issue with the Joy-Con controllers, and no widespread proactive repair or replacement effort is underway. A manufacturing variation has resulted in wireless interference with a small number of the left Joy-Con. Moving forward this will not be an issue, as the manufacturing variation has been addressed and corrected at the factory level.
We have determined a simple fix can be made to any affected Joy-Con to improve connectivity.
Nintendo is encouraging anyone affected by the sync issue to contact them for troubleshooting and if necessary, a no-charge replacement. Some repairs in Europe and Australia are coming with an additional piece of conducting foam in the Joy-Con.
Image of Joy-Con with conducting foam courtesy The Verge.