by Pedro Hernandez - 4:51 pm EST
Total comments: 14 Source: NeoGAF, http://ds.ign.com/articles/114/1142037p1.html
Nintendo's 3D handheld can now be reserved at stores nationwide.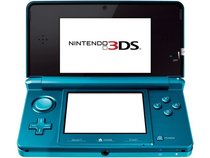 Video game retailer GameStop has started accepting pre-orders for the 3DS, according to several retailer reports.
The pre-orders started on December 26, the day after Christmas. Players that decide to reserve the system will have to put down $50 minimum (though sources at NeoGAF state that the minimum is $25 in some stores).
Read more...