The game will make its stateside debut this February.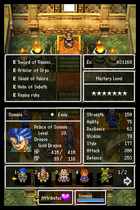 Nintendo will publish Dragon Quest VI: Realms of Revelation in North America on February 14.
Originally released on the Super Famicom in 1995, this DS remake marks the first time the game will be released outside of Japan. It is the third in the Zenithia trilogy, which began with Dragon Quest IV and V, both of which had DS remakes in 2008 and 2009 respectively.
The DS release came out in Japan in January 2010, and as of now, no other releases have been announced.