Retail version of the title not likely either. Update: Cancellation due to size limit on WiiWare.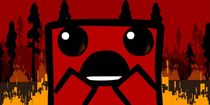 Super Meat Boy developers Team Meat have announced on their Twitter page that the WiiWare version of their title, the first platform for which the game was announced, has been cancelled. The game has seen many delays due to WiiWare's size restrictions, forcing the team to move the game to Xbox Live Arcade and PC where it has received critical success.
In addition, the team confirms that while things are looking grim, they are interested in creating a retail version of the title but this seems unlikely at the moment.
Update: Team Meat have told Joystiq the reasons behind the cancellation of the WiiWare release. It comes down to the fact the the game will not fit within the 40MB size limit for WiiWare titles.

Designer Edmund McMillen said, "We knew of the limits early on but overestimated our ability to get Nintendo to raise the file size. It's lame that there is a 40MB cap on WiiWare games... but it was our fault for blindly assuming this cap wasn't set in stone, and we are sorry for that."

Were the game to be released on WiiWare, it would have no leaderboards, Dark World levels or downloadable content. Music tracks would be limited to six in total, and boss fights and cutscenes would have no audio. Team Meat were not wiling to compromise the game content found they were unable to compile a satisfactory version that fit within the size limit.

McMillen confirms Nintendo's strict policy on WiiWare size adding, "Probably, honestly we got so lost in making a cool game we totally forgot about how strict the limitations for the Wii were, we just wanted to make something huge and the game got a little out of control."