Doctor Lautrec explores the mysterious underground of 19th Century Paris next Spring.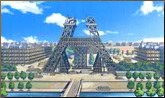 Konami has launched the official website for Doctor Lautrec and the Forgotten Knights, an original adventure game for Nintendo 3DS.
The story is set in 19th Century Paris and stars Doctor Jean-Pierre Lautrec, the genius archaeologist who loves to solve mysteries, along with his student assistant Sophie Coubertin. The game will have four gameplay elements: Event, Battle, Exploration, and Conversation. Exploration takes place on the top screen, while the lower screen displays a map.
Conversation and events are fully voiced, with characters' gestures and clothing changing based on the situation.

The game was revealed in Famitsu a few days ago and is expected to be released in Japan in Spring 2011.