Reggie Fils-Aime will travel to New York City to tell us about the upcoming handheld.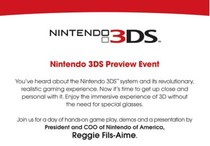 Nintendo is hosting a Nintendo 3DS press event in New York City on January 19. The event, kicking off with a presentation by Nintendo of America President Reggie Fils-Aime, will reveal more details about Nintendo's newest system, potentially including a North American release date and price.

Hands-on impressions and gameplay demos are promised, though no hints to any games were given.

Nintendo World Report will be there to report all the latest news and impressions as soon as possible.