1
« on: June 02, 2023, 09:25:50 AM »
With the power of EA Sports, the best baseball game ever adds real-life players and a lot of depth and breadth.
http://www.nintendoworldreport.com/review/63850/super-mega-baseball-4-switch-review
When I reviewed the Switch release of Super Mega Baseball 2 in 2019, my only listed con was that it didn't have the MLB license. Flash forward four years and two games and Super Mega Baseball 4 still doesn't technically have the MLB license (the MLB Players Alumni Association is the license used here), but the addition of real-life retired pro baseball players fits the tone and vibe of the series perfectly. Super Mega Baseball 4, out now on Switch and other platforms, takes an immaculate infrastructure and adds a richness that surprised and delighted me, even after my dozens and dozens of hours across Super Mega Baseball 2 and 3. Developer Metalhead Software, now part of the EA Sports family, have once again made a game that is better than the last one, though this feels like a larger leap than the one from 2 to 3.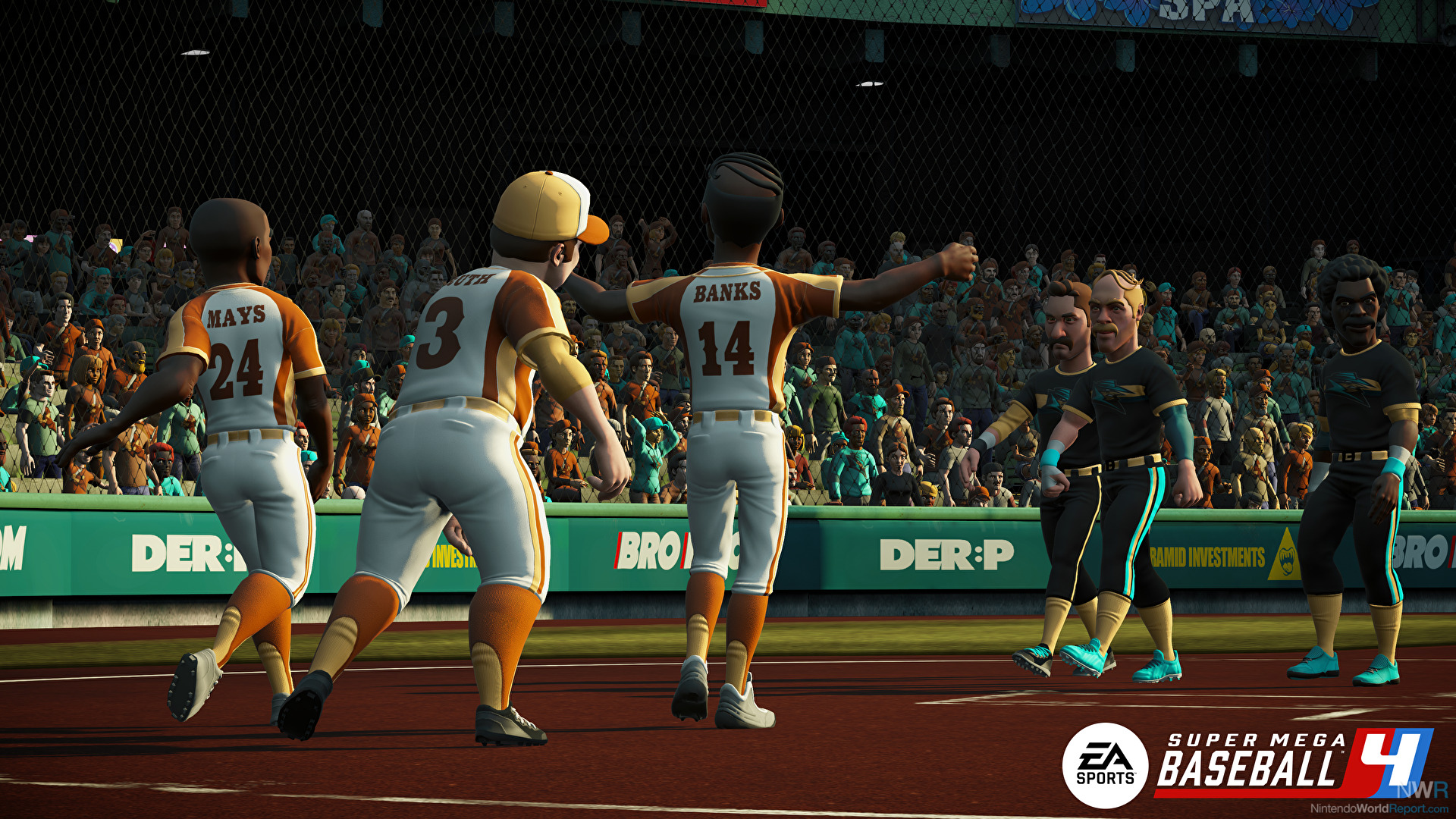 The flashiest addition is the 200+ MLB Legends added to the player roster. Legends might be stretching it in some cases, but the sizable number of real players range from Babe Ruth who played 100 years ago to players like Alex Gordon who last played in 2020. Sifting through the eight new teams that are made up of these old pros is akin to opening up packs of baseball cards. If you are a fan of being like "hey, remember Dave Righetti?" then you will have a ball seeing the players chosen for this game. It's definitely slanted more to the past 30 years, but there's a good enough balance of older and newer players. You can boot up the game and immediately play a season or franchise with these teams. You can also do the same with the 20 Super Mega League teams, which features the expansive cast of characters from the other games in the series. There's even a Creators League, which features content creators and influencers. I'll be real: I didn't touch that, but if you're into Jomboy Media you can play as some of the people from there.
You can also mix and match from those leagues to create your own, but even better is the biggest new mode added to Super Mega Baseball 4: Shuffle Draft. It's a streamlined way to build a team from any collection of players. You draft 22 players for your roster, picking one from a group of up to eight every round. The players vary in position and quality when you begin, but as you go the pool of players will be limited to what open spots you have on your roster. For example, if your first few picks are all starting pitchers that fill up your four-person rotation, you likely won't see another one starter. Similarly if you don't draft a catcher at all, your last round will basically be all catchers. This keeps every league and season fresh in a way that is digestible and fun, letting you customize your team to whatever your preference is. Once you draft that team, you can take them into virtually any other mode.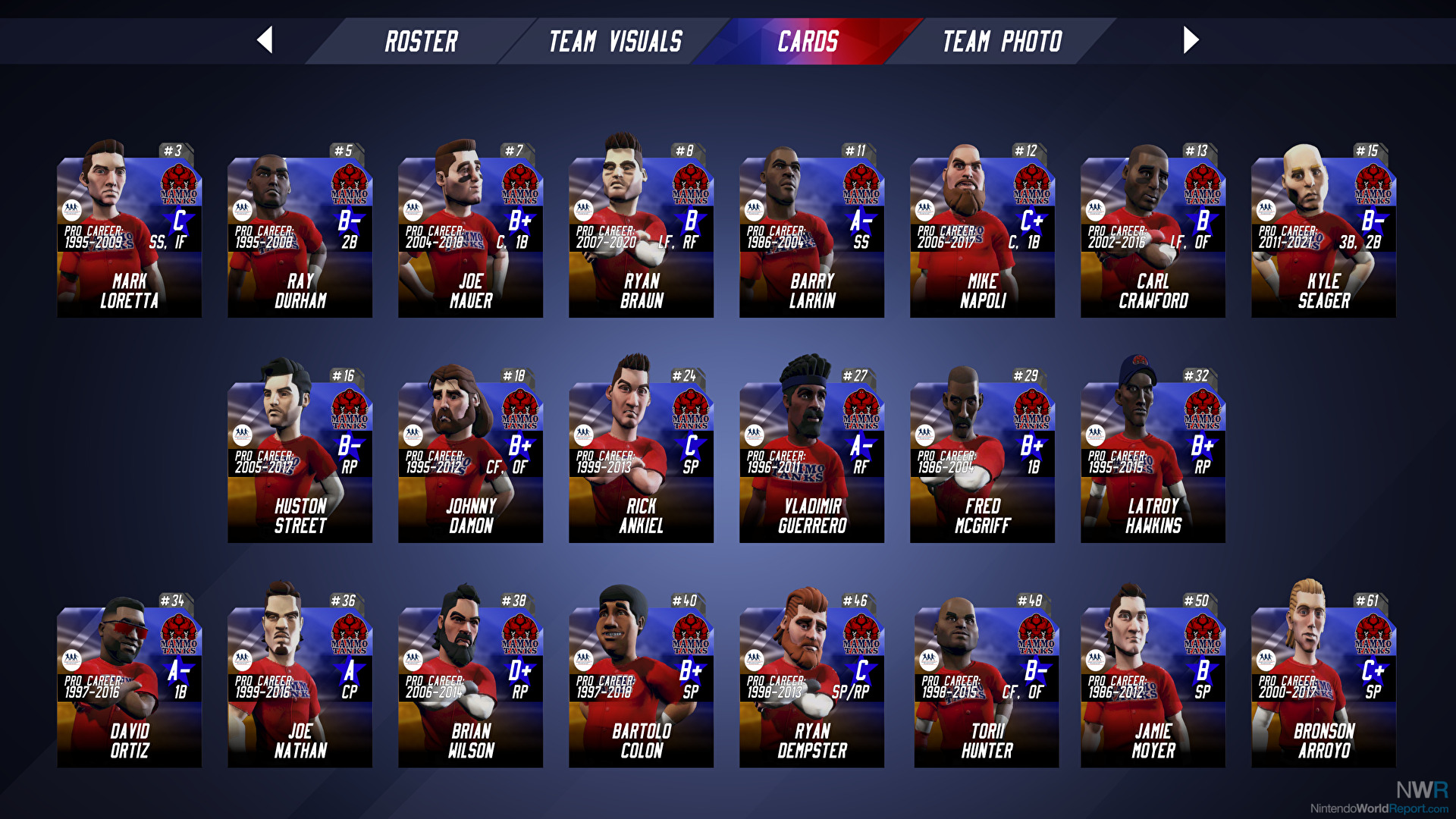 Aside from Shuffle Draft, the rest of the modes have had a lot of clarity and refinement added. In the grand tradition of Shohei Ohtani, two-way players are now possible. Bullpens are deeper, so you have more variety later in games. Player traits are also expanded, factoring into an overall team chemistry system that rewards you by building a team with similar player types. I enjoyed the Super Mega Baseball version of Franchise in the third game, but the tweaks made here help to make it less obtuse. Helpful tooltips better explain the player development and free agency quirks. I also love how you can do something like start with the Legends league and then add in the Super Mega players as free agents over the course of your Franchise.
Pennant Race—the seasonal online mode that was cross-play and fun in the past—is still here with a few tuneups here and there. It uses the Super Mega teams, but depending on what teams are excelling the best, MLB Legends will be added to underperformers each in-game online season. I'm generally not a huge online player for sports games, but the Pennant Race is a good time. In my experience so far, it has worked well cross-play even as PlayStation 5 and Xbox Series X players enter the fray.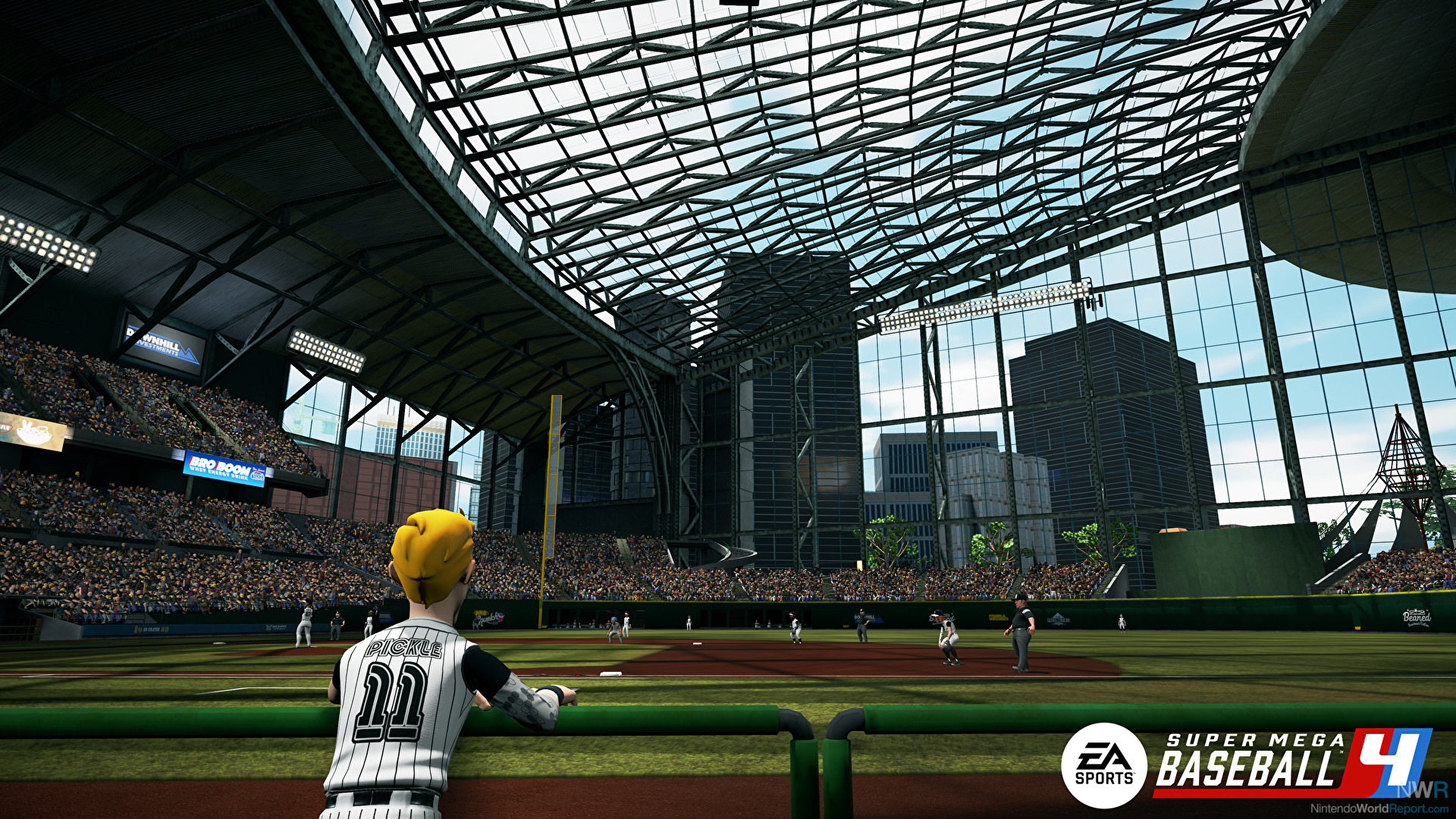 The technical gap between the Switch and the other current-gen home consoles sidles into the biggest issue with Super Mega Baseball 4 on Nintendo's system. It runs well in game, but the visuals look a little bit rougher (especially on handheld) and the load times have increased. This is the type of issue that I understand why it's there, but this is a Switch game that is feature complete and cross-platform with consoles that dwarf its power. Even still, it's worth calling out. Unless you're, like me, someone who will play this predominantly handheld, I'd lean towards one of the other consoles. The Switch version is still incredible. It's just showing its age.
Even with that caveat, the visual and audio upgrade in Super Mega Baseball 4 is impressive. While still maintaining the vibes of the original, the games are more visually engaging, with a variety of new camera angles and details. It also does that EA Sports thing where it has a bunch of licensed music that will likely include a song from a band you'll see live 20 years later and then have a vivid flashback to the hours you spent playing this game (I saw the band Midtown recently and when they played "Give It Up," I was instantly transported to Madden 2005). I've always considered EA's MVP Baseball 2005 as one of the best baseball games ever made, so it's neat to see the '00s-era champ pair up with the current title holder.
Super Mega Baseball 4, like its predecessors, has become the new standard for arcade sports games upon its release. Metalhead Software has refined near perfection over the past few years and I'm in love with the lineup of MLB Legends and the new addition of Shuffle Draft.