We can't say how many trees were killed in the making of this paper-tinged game, but here's what we think of it.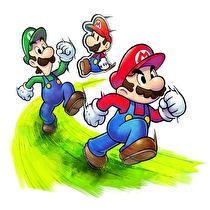 Mario & Luigi: Paper Jam came out in Europe and Japan late last year before coming to America at the end of January. We had reviews of the European and American versions around their launches and, as odds would have it, both of our reviewers reached a similar score conclusion. Daan Koopman seemed to echo a lot of the complaints of recent Mario & Luigi RPGs: "[The game] was enjoyable, but it suffers from some severe pacing problems." Similarly, Bryan Rose made the comment that "When it's a role-playing game, it's really strong and the battle mechanics really shine. but the bland settings, story, and boring missions drag it down." Overall, while both reviewers enjoyed them, they had their fair share of complaints.
So we took the vote to more folks, including a few other Nintendo World Report staffers as well readers from the community. What did others think of Paper Jam? Check below to see: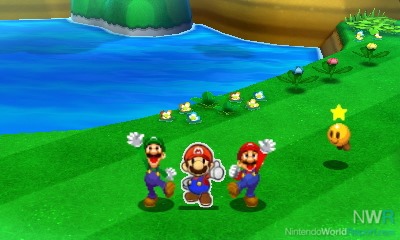 ---

Neal Ronaghan, Director: I know back when I reviewed Mario & Luigi: Dream Team, I gave it a good score, but the taste that game left in my mouth got more sour as time went on. It was too talkative, had major pacing issues, and just paled in comparison to its far superior predecessors. As such, Paper Jam wasn't a game I anticipated too much. In retrospect, I'm glad I still bought it like a sucker, because it turns out that the odd-numbered Mario & Luigi games are still fantastic. While its story doesn't near the highs of Superstar Saga and Bowser's Inside Story, Paper Jam's story does something just as smart and clever: it gets out of the way. The stellar witty writing is still present, as is the fun timing-based battle system and novel overworld exploration, but all of the talky fluff is strained out to a point where, even if Paper Jam's 25-30-hour story still lasts a little longer than I'd like, the pacing is brisk and light. The only big issue I disliked was the oversized Papercraft battles that felt more like a drawn-out spectacle than fun at times. The denigrated Paper Toad Hunts didn't even bother me much as they reinvigorated already-explored areas in a similar way as the Silent Realm did in The Legend of Zelda: Skyward Sword. All in all, Paper Jam is a grand return to form for both Mario & Luigi and Paper Mario. Hopefully the next entries in both series get even closer to the high highs of both series' earlier entries.
---

Donald Theriault, News Editor: Paper Jam is a game that restrains itself from the worst impulses of old games, and the experience is better because of that. It's not perfect – the papercraft battles are annoying, and the card system(s) can't be disabled – but the biggest issue with Dream Team, interminable talking, is gone. By leaving most of the mechanical explanations in optional tutorials, Paper Jam gives more of a chance for the great writing of the Mario and Luigi games to shine. Adding Paper Mario to the mix makes for fun attacks, and also has the standard-issue Mario exhibiting a lot of personality. If you skipped Dream Team, it's time to get back on the train.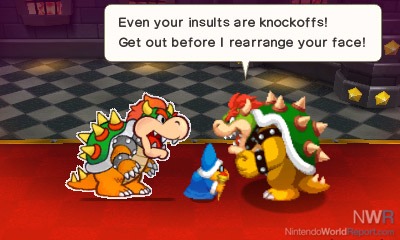 ---

Casey Gibson: Paper Jam is a return to form for Mario & Luigi, one that's fresh for both veterans of the series and newcomers alike. After what many thought was a lackluster entry with Dream Team, AlphaDream took the criticism head on and fixed many of the issues making this a much more streamlined and enjoyable experience. Instead of mandatory drawn out tutorials, they've opted to put them in your battle guide, giving you the option to reference them as needed or skip them outright. The fast-forward button, a series first, allows you to move through cut scenes faster and gets you back into the action. If you couldn't tell already, a major emphasis was put on making sure players weren't disengaged from the adventure.
Crisp gameplay and charming dialogue are a staple in the Mario & Luigi series and the latest entry isn't lacking that. The addition of Paper Mario makes for some of the best gameplay to date, finding the perfect marriage between fun and challenging game mechanics that continue to be enjoyable for the 25-hour adventure. The interaction between Paper characters and their counterparts had me in stitches and the difference in timing of attacks adds fantastic depth in battles, forcing players to always be on their toes. What took a lot of heat in early reviews were the Paper Toad Hunts. These are mini-games where you have to find and collect Paper Toads sporadically throughout the journey. While not the most enjoyable aspect of the game, I found them to be tolerable for the most part. What really missed the mark are the Papercraft Battles. While charming at first, they are often drawn out and become stale quickly. However don't let that turn you off from trying Paper Jam as it's one of the best in the series and worthy of a playthrough.
---

Jordan Rudek: If I had to change my relationship status on Facebook to match my feelings about Mario & Luigi: Paper Jam, it would read "Love-Hate." The music and sound effects in the game are catchy and appealing, and the visuals are colorful and vibrant. The amalgamation of the Paper Mario and Mario & Luigi aesthetics is well-conceived and enjoyable to look at. As well, the timed offense and defense of both series are as fun as ever. Unfortunately, Paper Jam's story is nothing to write home about, and the progression from one area to the next feels like driving a car that stalls every few blocks. Whenever the trio of Paper Mario, Mario, and Luigi solve a puzzle or collect X number of items, another roadblock inevitably pops up. The Paper Toad fetch quests (emphasis on "fetch") represent simply another form of filler that pads out the length of the game without adding much in the way of entertainment. The Papercraft battles are novel, but quickly become monotonous. Paper Jam improves on Sticker Star and Dream Team, but fails to reach the heights of earlier entries in either series.
---

Perry Burkum: The second Mario & Luigi outing on the 3DS delivers a fun experience with the help of Paper Mario. The timing-based battles are the best they've ever been, and while it doesn't really change the formula for RPGs, it is peppered with fun little mini-games throughout that help keep the gameplay more varied. Overall, a beautiful solid entry in the series and a tentpole game on the 3DS.