Here we go: will Paper Mario or Mario Kart earn Mario spinoff supremacy?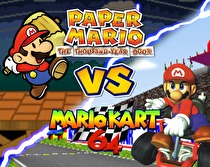 After dozens of match-ups, plenty of upsets, and 66 fallen games, we're down to just two Mario spinoffs. Our final match-up is Paper Mario: The Thousand-Year Door vs. Mario Kart 64.
To get there, Paper Mario soundly took out Mario Kart 64's sequel, Mario Kart: Double Dash!! while Mario Kart 64 squeaked by Captain Toad. If I were a betting man, I'd put it all on Paper Mario. But let's see what democracy decides (probably Paper Mario).
Here we go! It's the finals of our Mario Spinoff Madness Tournament!
Who do you got? Paper Mario: The Thousand-Year Door or Mario Kart 64?https://t.co/MqplX0gI2l

— Nintendo World Report (@Nintendo_NWR) April 27, 2020