Mario's here to chew bubblegum and juice 3DS sales, and he's all out of bubblegum.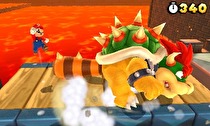 Looking back at the end of 2011, I don't think I quite realized at the time how incredible it was for the 3DS. Not only did it have the debut of Super Mario 3D Land and Mario Kart 7 - arguably the system's first big-time original games - but it also featured the start of the vibrancy of the eShop with Pushmo, Mighty Switch Force, and VVVVVV. It had unsung hits like Griptonite Games' take on Shinobi and Shin'en's Nano Assault. It even had an Ace Combat game and a Sonic game that didn't totally suck. To knock it, Doctor Lautrec, Konami's assy Layton equivalent, did stink up the joint, but really, the first holiday season for 3DS was a rousing success.
That victory was definitely felt in the sales department, something that outside of a mention of the price drop, hasn't been discussed here in specifics. The 3DS launched to more than 3 million units in its opening month, but thanks to the overbearing price, sales plummeted after. From April 2011 to September 2011, Nintendo sold less worldwide than they did in the opening days and weeks of the system in February and March. But the fortunes of the 3DS turned once Mario hit the scene. In the final three months of 2011, the 3DS sold close to 9 million units, eking out around 15 million total sales across the world in less than a year.
The 3DS very easily could have been a Wii U-like catastrophe, but thanks to smartly timed holiday releases and a risky, savvy aggressive price drop, Nintendo was able to right the ship before it blew up. From here in 2017, where the 3DS is old hat and a proven winner, it's weird to think of a time where its future was uncertain.
But hey - we haven't even gotten to that weird holiday where Nintendo released like no games for the thing because they had to shift all their developers to make HD games or something. More fun times are ahead. Stay tuned for a return trip to Angel Land and a whole lot more.
Worth Revisiting?
Super Mario 3D Land is a ****ing masterpiece.
Aside from that, this time period has quite a few fun games that are worth a first or second look. Pushmo, while maybe bested in future releases, is still an awesome puzzle game. So is WayForward's Mighty Switch Force. The other big eShop release from this time, VVVVVV, is brilliant. 3DS might not be the best place to play it, but it's great for on-the-go playtime.
While Freakyforms is still weird and kind of beautiful, I only recommend checking it out in the modern era if you just want to see something super weird. Cave Story 3D is a mediocre version of a great game, and Mario Kart 7 is an inferior version of Mario Kart 8, which you can now get on a portable thanks to Mario Kart 8 Deluxe.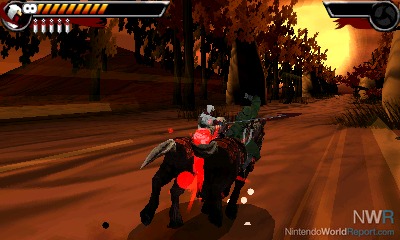 If you're looking for a deep cut, go check out Shinobi, a fun platformer based on Sega's old franchise. It was developer Griptonite Games' last game before they were purchased by Glu Mobile. That's kind of a shame because Griptonite Games had a good reputation for making quality licensed games on DS, but they definitely went out with a relative bang with Shinobi.
Neal's Top 15 3DS Games
Super Mario 3D Land (November 2011)
The Legend of Zelda: Ocarina of Time 3D (June 2011)
Pushmo (December 2011)
VVVVVV (December 2011)
Mario Kart 7 (December 2011)
Mighty Switch Force! (December 2011)
Star Fox 64 3D (September 2011)
Pilotwings Resort (March 2011)
Shinobi (November 2011)
Tom Clancy's Ghost Recon: Shadow Wars (March 2011)
Resident Evil: The Mercenaries 3D (June 2011)
Skylanders: Spyro's Adventure (October 2011)
Nano Assault (December 2011)