The roguelike starring Link and Zelda is coming to Switch this spring.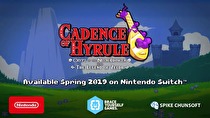 Cadence of Hyrule is coming to the Switch eShop in the near future, courtesy of Nintendo and Crypt of the NecroDancer developer Brace Yourself Games.
As announced in the March 2019 Nindies Showcase, Cadence of Hyrule is a roguelike rhythm game similar in style to Crypt of the NecroDancer, which first came out in 2015 and is currently available on Switch. The setup is that the star of NecroDancer, Cadence, finds herself in Hyrule. Across randomly-generated overworld areas and dungeons, players team up with Link and Zelda to save Hyrule, all to the beat of 25 remixed Legend of Zelda songs. Familiar enemies like Lynels, an assortment of items from The Legend of Zelda, and spells and weapons from Crypt of the NecroDancer culiminate in a unique take on both series.
Link, Zelda, and Cadence will all be playable as the NecroDancer style features graphics more in line Super Nintendo-era Zelda games. Cadence of Hyrule is set for release this spring.