Have you ever danced with the dinosaurs in the pale moonlight?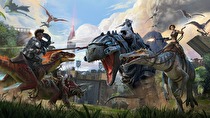 The end of November will bring a horde of prehistoric horror to the Switch.
Studio Wildcard have announced that ARK: Survival Evolved will release for Switch on November 30. More than 100 dinosaurs and other beasts of legend will be available for hunting, including T-Rex and the Yeti.
The game will release in stores as well as on the eShop on the 30th.