The colour brown must be a fave.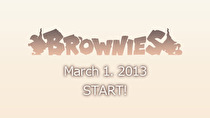 The founder and president of Brownie Brown, Shinichi Kameoka, is no longer with the company following the recent restructuring and name change of the developer to 1-Up Studio.
The new company is called Brownies and will be located in Kichijoji in Musashino, Tokyo. A new website has also been revealed, but is currently only teasing a March 1 date; presumably this will be the date the website launches.