UPDATE: Layton's release date is confirmed by Level-5 and a new preview video for the game is available!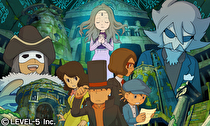 UPDATE: Level-5 has officially launched the Japanese website for the Professor Layton and the Azran Legacies which confirms the February 28 release date in Japan. The packaged version of the game will retail for 5,500 yen while the downloadable version will go for 5,000. Be sure to check out the latest preview video from Level-5 below!
Layton Kyouju to Chou Bunmei A no Isan (unofficially translated as Professor Layton and the Azran Legacies) is rumored to see release in Japan on February 28.
A Japanese blog reports the possible date, also noting that Level-5's latest 3DS Layton adventure will come with a gold or bronze coin for those that pre-order.
Announced in August of last year, Layton Kyouju to Chou Bunmei A no Isan is said to be the final adventure of Hershel Layton. Here, players are brought to a snow covered city, where Layton, Luke and Emmy find a woman trapped in ice. Once thawed, she tells of an ancient race that starts the group on a globe spanning adventure in search for details of this lost civilization. It's the final chapter in the Layton series' second trilogy, which began with The Last Specter for the DS.
No release date has been announced for North America and Europe.
For more Layton news, be sure to check out Danny's story on the upcoming licensed, Japanese chocolates.