Nintendo said 23 games were hitting launch in late September. Well, we're up to 24 now.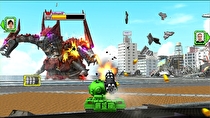 Tank! Tank! Tank! is coming to Wii U at the system's launch on November 18, according to Namco Bandai's Denny Chiu during a recent video with Giant Bomb.
Previously listed as a November release in Nintendo of America's launch lineup press release, the game's inclusion with the launch lineup bumps the number of launch retails from 23 to 24. Publisher Namco Bandai is also releasing Tekken Tag Tournament 2 Wii U Edition at launch.
Tank! Tank! Tank! is a tank battle game based off of the arcade game of the same name. It features a full single-player campaign, a variety of battle modes, and more. Check out our impressions for more details on the game.