A new image appears to tease some Nintendo characters joining Maxwell in his latest adventure.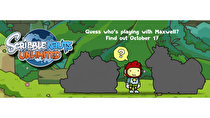 A teaser image for the upcoming 3DS and Wii U versions of Scribblenauts Unlimited appears to show some iconic Nintendo characters in grayed out silhouettes. The image was discovered by Kotaku.
The picture's text reads "Guess who's playing with Maxwell? Find out October 17."
Two groups of characters are grayed out, but deduction suggests they are Nintendo characters. The silhouette on the left seems to show Yoshi, Princess Peach, and possibly a Mario-esque figure. The silhouette on the right shows a horses outline, which could possibly be Epona from the Legend of Zelda series.
Whoever is in these grayed out images will become known on October 17. Whether this reveal will be a stand-alone announcement, or if it will be part of a larger event is currently unknown.
Scribblenauts Unlimited is also coming to the PC, however if these do turn out to be Nintendo characters, there is little chance of the Nintendo icons jumping over to that platform.