Wario's brush with immortality comes to 3DS - in color too!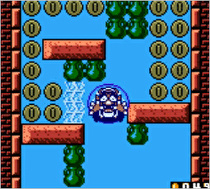 The first sequel to Wario's pioneering adventure on the Game Boy is set for release on the Japanese Virtual Console service on April 4th. The 3DS version is a port of the Game Boy Color re-release, which was the only version released in Japan.
The game is a direct sequel to Super Mario Land 3: Wario Land, in which buxom pirate Captain Syrup returns for revenge, stealing all the treasure from Wario's castle. Wario must quest through branching paths to reclaim his ill-gotten gains, while making use of various enemy-inflicted ailments that transform him into different forms such as a zombie, a balloon or a flaming mass.

This news is sure be like salt on the wound to US Wario fans, who have yet to see the original Wario Land arrive on Virtual Console at all despite its availability in all other regions.