Get chocolate balls and an AR card this March.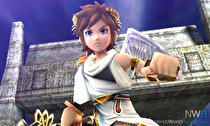 A Kid Icarus AR Card will come bundled with boxes of chocolate snack in Japan this upcoming March.
Beginning March 12, Japanese gamers will have the ability to purchase a box of Kid Icarus: Uprising Choco Snacks. Each box will include one of twenty Kid Icarus AR cards and is currently priced at 100 Yen.