Mario and the gang will be four-sport heroes in early February.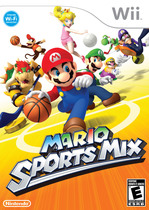 The Square Enix-developed Mario Sports Mix will be coming out in North America on February 7, according to Nintendo.
The Wii title features four sports (basketball, volleyball, dodgeball, and hockey) with single-player modes, unlockable characters, and local and online multiplayer. The online multiplayer will allow two players on a system to compete against two players on another. Friend Codes are still necessary, though you can also play against anonymous players.

Mario Sports Mix is already out in Japan, and is coming to Europe and the UK on January 28 and February 4 respectively.