Nintendo's newest handheld will retail for ¥25,000 ($300) in Japan. Also, it's coming out in March in North America and Europe.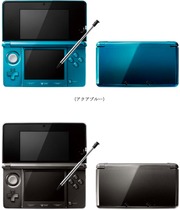 At their 3DS press event today, Nintendo announced the first details concerning the launch of their newest handheld. The 3D-enabled device will launch in Japan on February 26, 2011. It will be priced at ¥25,000, or approximately $300 USD; this price is confirmed for Japan only. The 3DS will be available in two colors, "Cosmic Black" and "Aqua Blue".
No specific prices or dates were announced for North American or European releases; however, Nintendo did state that the system will launch in those territories in March 2011.
Most of Nintendo's current hardware is priced lower in the United States than in Japan. For example, the DSi LL/XL costs ¥18,000 (approximately $215 USD) in Japan, but the retail price is $169.99 in the U.S. after the recent price drop.