DSiWare dominates this week's update, which also features a Virtual Console game.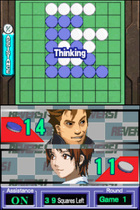 This week sees six new titles added to Nintendo's downloadable game services. WiiWare's lone title is Broken Rules' And Yet it Moves, which is also available on PC. The title is a physics-based platformer in which players must rotate the game's world in order to access new levels and entrances previously sealed. The title features 20 levels as well as unlockable bonus levels and additional gameplay modes. And Yet it Moves is available for download for 1,000 Wii Points ($10).
The Virtual Console receives one title this week, and that is Ufouria: The Saga for the NES. Published by Sunsoft and priced at 600 Wii Points ($6), Ufouria is an action platformer starring Bop Louie. He will explore a weird and changing world in search of his friends. The game never came out in North America, and the Virtual Console release is actually the European version.
DSiWare sees the most titles this week with four games available for download. The first of these titles is Rytmik from Cinemax. For 800 DSi points ($8), players will be able to create music using several beats and different instruments.
From Genterprise Inc. comes this week's second DSiWare game, G.G Series NINJA KARAKURI DEN. The title is an action game in which players take control of a ninja as he survives a mansion filled with traps and other perils. The game can be downloaded for 200 DSi points ($2).
This week's third DSiWare title is My Farm from BiP media. My Farm is a farming simulator where you can raise animals and grow produce and then sell them in the market and to fellow farmers. My Farm is available for 200 DSi Points ($2).
The final title for this week is Absolute Reversi from Tasuke. The game is a strategy title created for all kinds of players in mind. The title feature various modes of play, including a multiplayer mode using the DS Download Play option. Absolute Reversi can be obtained for 200 DSi Points ($2).