Complete your idol collection!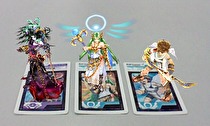 We've got a complete guide planned for Kid Icarus: Uprising, but until it's ready, why not complete your AR idol collection? We've got over half of the 407+ idols ready for you to scan using the AR camera feature. Even better, each AR scan gives you a 100 heart bonus! Click the categories on the right side of the page to begin collecting! You can click on each card to zoom in and press the left and right keys to switch cards.
Be sure to keep checking back for the latest updates! Next up: Weapon fusion tables, Powers list, Treasure hunts, and more!
Also, if you're interested in trading your actual cards, please check out our forums!
Special thanks to the following people for contributing AR card scans: Darcie Clements, Daniel Brackenbury, James Dawson, J.P. Corbran, Alexander Culafi, Danny (pandan1991).
Extra special thanks to Daniel Mousseau for normalizing the scans.