Grab two of your Kid Icarus-playing friends and sign up.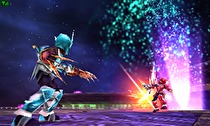 As promised, we're hosting a Kid Icarus: Uprising tournament starting during the week of April 29. We'll be playing Light vs. Dark for prizes.
UPDATE 4/26/12: Here's the prize distribution:
Grand Prize for Three Members of the Winning Team: Each winner gets a Kid Icarus: Uprising t-shirt, a pack of Kid Icarus: Uprising AR Cards, a Pit perler bead, and two eShop games of their choice from our selection (first dibs since they won).
First Runners-Up: The first runners-up will each receive one eShop game of their choice from our selection (second dibs after winners).
Second and Third Runners-Up: The highest point-scorers on the second and third runners-up will each receive one eShop game of their choice from our remaining selection (after the previous winners take their pick).
Prize List
1 copy of Mutant Mudds from Renegade Kid
2 copies of Pyramids from Enjoy Gaming
5 copies of '90s Pool (DSiWare) from Cinemax
10 copies of Penguin Patrol from Intrinsic Games
Kid Icarus: Uprising shirts and AR Cards from Nintendo of America
Pit perler beads from StreetPass Princeton
Note: All game giveaways are North American only. Sorry Europe/Australia/Japan/etc.! The AR cards are also North American, but they work for all regions. If you're a winner from another region, we'll try to figure something out for you other than a game.

Here is how it is going to work:
We'll be using the default settings for Light vs. Dark, so the stage is random, the time limit is six minutes, the items are standard, and the life gauge is set at 900.
Since we're playing Light vs. Dark, there will be teams of three players competing. If you can, sign up with two other players. If you're stag, then announce it in the Talkback thread and you can match up with other players.
We'll be capping the amount of teams at 16, so get your team in soon!
The tournament will be run in rounds. So, April 29 to May 3 is Round One; May 4 to May 7 is Round Two; May 8 to May 10 is Round Three; and May 11 to May 13 is the finals.
During each round, you have to communicate with your opponents and plan out a time when you will all go online to play. Each team must have a captain that will take a photo (camera phone is fine) of the scoreboard after the match to verify the score. Following the match, send the image to community(at)nintendoworldreport(dot)com. If a team doesn't submit a photo after a match, they will be disqualified. Each round is a best-of-five match. That means, basically, the first team to win three times is the winner.
There will be staff teams, but staff (former or current) can't win prizes. So, if a staff team is in the finals, the other team wins the prize regardless.
Send your questions/comments to community(at)nintendoworldreport(dot)com
In reaction to mid-tourney events, there is this addendum: Each match must consist of players mentioned to the tournament organizer and opponent before the match. Under no circumstances should non-announced players be involved in a match. Each team must consist of three players from each competing team. From May 6, 2012 forward, if any team attempts to doctor any team, they will be immediately disqualified and not awarded any prize.
To sign up, e-mail community(at)nintendoworldreport(dot)com by April 28 at Noon EST with the following information:
Your name, 3DS Friend Code, and 3DS name
The names, 3DS Friend Codes, and 3DS names of your two teammates
Any days your team might not be available during the tournament (4/29 to 5/13)