The beginnings to the obsession.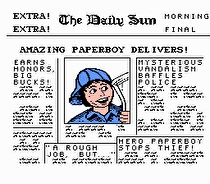 Paperboy
A game that promotes vandalizing people's homes who refuse to subscribe to your paper? Oh yeah. For a port of an old Atari arcade game that I probably only played half a dozen times on the NES, this one stuck with me. Despite being easy as pie for some people, I can remember how much time I wasted on this game, determined to make it past a tricky dog or homicidal maniac in his car. I loved it so much that I eventually spent an entire camping trip during my teenage years playing a remake on my old Gameboy Color.
Q*Bert
Another arcade port that I probably played only half a dozen times. But this one I actually fondly remember playing late into the night with my dad. We would rotate the controller between my dad, my sisters and I. Usually it fell upon him to actually make it to the next level. The rest of us fell prey to Coily more often than not.
TMNT III: The Manhattan Project
This game is possibly the first one I ever beat, which was an accomplishment back when I was five and couldn't play almost anything without losing eight lives in the first level. It's even more of an accomplishment considering that I could only play it at my cousins' house a couple times a year since my family's NES died early in my childhood. My sisters and I would plunk in front of the TV the second we got to my aunt and uncle's and rotate controllers based on deaths for hours until we could beat it. We also had to play without being able to cause damage to one another because half of the time we would end up killing each other out of spite or because it was funny.
Duck Hunt
With one of the first real steps away from traditional controllers, the NES Zapper and Duck Hunt provided me with hours of solo entertainment shooting at ducks and skeets on a screen. It was a great time for someone with little talent at video games, especially when there was no one around to pull the weight on more difficult titles. To this day I hate that dog, and I'm sure not the only child who wasted bullets on his smug little face. A lot of bullets.
Contra
Aside from Super Mario Bros 1, Contra was the only cooperative game my family owned for the NES. For a family with three little girls, this game lead to a surprising amount of shouting matches as a result of one player dying because the other was too slow. And like a lot of people, no, I never beat it.