A member of the Toki Tori 2 teams chimes in with her NES memories.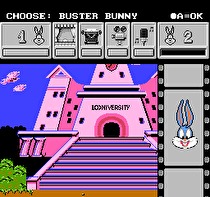 Although the NES wasn't the first console I played, I have very good memories of it. I used to play NES games with my brother all the time. When I look at the games, I enjoyed playing Super Mario Bros 3 and Teenage Mutant Turtles with my brother the most. We always sat there eagerly looking and playing these two games with a blanket on the couch!
When it comes to games I loved to play alone, the first one I have to mention is my experience with The Lion King; the way you moved and swung through the jungle was a super fun experience for a little girl like me.
The two others that definitely have a special place in my heart are Tiny Toons 2: Trouble in Wackyland and Tiny Toons Cartoon Workshop. When I think back about it now, I start to smile again. The design and gameplay from Trouble in Wackyland is genius, playing each and every attraction over and over again to earn tickets to get a glimpse of that main attraction in the center of the theme park was fun. What I absolutely loved about Tiny Toon Cartoon Workshop is that it gave you the possibility to create your own cartoon sketches with many many options. Truly a hilarious and wonderful idea for a game!