All kids from the '80s and '90s loved submarines and The Lone Ranger, right?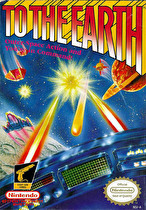 To the Earth
The NES Zapper was a really cool peripheral. In my house growing up, my brothers and I only had two games that supported the thing - Duck Hunt and To the Earth. The game had players going from Uranus, Saturn, Jupiter and then to the Earth in an extremely difficult light-gun shooter that was nearly impossible to beat. Even though my brothers and I never came close to beating the game, we had some of our fondest memories dying countless times throughout the experience.
R.B.I Baseball 3
As a kid, I loved baseball. Of course, I also loved video games. For my young mind, having a video game where I could play a sport lazily inside on summer days away from the heat was appealing to me. R.B.I. Baseball 3 was my first foray into sports gaming, a genre that I still love to this day. The really cool part for me was the fact that this game featured real players and teams, both (at the time) present and even some popular post season rosters from 1983 to 1989. While baseball games have radically changed since then, the simplicity found in this 2D baseball classic are unparalleled.
Teenage Mutant Ninja Turtles III: The Manhattan Project
A bit of an upgrade from TMNT II: The Arcade Game on the NES, Turtles III added even more characters from both the popular live action movies as well as the cartoons. Mix this in with solid controls, special attacks and cool music, Turtles III provided hours upon hours of enjoyment for my brothers and I. Oh, and Super Shredder was super rad, albeit a bit easy.
The Lone Ranger
I didn't know a single thing about The Lone Ranger in 1991, except for the fact that my grandpa knew about it and liked it. Despite that, I really enjoyed playing this top-down/sidescrolling/first-person action adventure. This was the first game that I had ever played that had me purchasing equipment, like bullets and dynamite, and that had me traveling around on an overworld. I also always got a kick out of having to take on enemy gunmen with bare fists when The Lone Ranger ran out of ammo. Again, like many of the games I had back in the day, my brothers and I could never quite complete it, but we definitely had fun with this North American exclusive from Konami.
Silent Service
A submarine simulation game based on World War II? That's what every 5-year-old kid wanted to play in the early 1990s, right? Whether I wanted to or not, I definitely played a lot of Silent Service with everyone in my family, including my dad, who rarely played video games. While it's easy to dismiss a game like this without even playing it, Silent Service gave a relatively realistic look into what it could have been like to sneak around in a submarine. As part of the US Navy, most of the game is spent looking for Japanese ships and sinking them. Of course, this was a lot easier said than done. Even things that my young mind couldn't grasp at the time, such as diving too deep and fast would set you on a crash course for the bottom of the ocean, or that going straight to a group of enemies, guns blazing is a no-no. Heck, I even learned what Morse code was from that game! If anything, Silent Service was a learning experience.