Neal recounts Blaster Master, Lunar Pool, Snoopy's Sports Spectacular, and 3-D WorldRunner.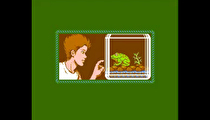 For the sakes of my NES memories in this feature, I challenged myself to not just rattle off Nintendo-made games. I mean, like everyone else, that's what drew me into the world of Nintendo, but some off-the-beaten-path NES titles populated my youth.
My NES experiences all derive from my cousin, who is close to 10 years older than me. When visiting my aunt, my brother, sister, and I would always gravitate towards sitting in my cousin's room playing all sorts of games. That was where I first experienced Blaster Master. As a child of meager age, the storytelling blew my mind because well, that kid's frog got turned into a tank. It was nuts. I was rather terrible at it, but I just loved exploring that world. It made all the more rewarding when some 10 years after that, I went back to it and actually progressed in it.
Lunar Pool was always a constant as well, and it was one of the few games my aunt ever played (outside of some riotous Wii Sports Tennis in recent years). It's like every other pool video game you have ever played, but the friction was easily changeable and the tables were often set up like mini-golf courses. Many days and nights were spent shooting pool. Now my brother has an actual pool table that the same type of experience happens at, but unfortunately, it's just regular pool and not the zany moon pool populating Lunar Pool.
While I'll fight for the competency of Blaster Master and Lunar Pool, Snoopy's Silly Sports Spectacular is a game I fully admit is horrible. It's an olympic event-style game starring Snoopy and friends (the Japanese version was themed after Donald Duck, oddly enough). I played too much of this as a child, and my friends and I could never figure out how exactly to land the river jump. Also, there was an event in which you carried stacks of pizza and had to balance it, and another one where Snoopy and his dumb cousin would fight to the death on a boat. You threw boots, and did sack races. I'm feeling odd pangs to play this game and burn it at the same time right now.
I'll end this with a guilty pleasure. I very sincerely love 3-D WorldRunner, which is a weird behind-the-back platformer that is cruel and made by Squaresoft. The trick, if you couldn't tell by the name, is that you could wear 3D glasses and it would be in 3D. With the touch of a button, you could take the game from normal to stupid, or rather, barely 3D if you had those crappy red-and-blue glasses. There was a two-week period of my life where I thought it'd be fun to play through my NES collection in chronological order, so I spent about two weeks trying to beat this game. I ended up succeeding and I did enjoy most of it. However, I can't recommend another soul tries to beat this unforgiving but novel game.
I've got plenty of other NES games coupled with fond memories. This is the system that made me go from casual purveyor of video games to FuncoLand junkie who would buy whatever crap he could find. My story didn't begin in the '80s like most others. I never really begged my parents to buy me an NES. I just begged them to visit my aunt so I could play Mario and junk. And then when my cousin straight-up gave me the equivalent of a video game bong hit in the early '90s when he gave me his NES and his games, all bets were off. I was hooked. Everything since then has been a blur up until the freshly unwrapped eReader I, for some reason, bought off of eBay.