A childhood fueled by Kung Fu and Godzilla.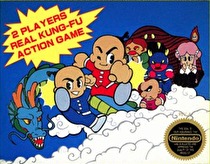 Kung Fu Heroes
My brother and me would spend countless hours playing this game, and it grew into a love for terribly translated Kung Fu movies that I still hold to this day. You had to fight your way through waves of enemies in each level until a portal leading to the next stage opened. It was one of the few games we owned that features simultaneous multiplayer, and I have very vivid memories of my (old, more-skilled) brother standing in the portal yelling for me to hurry up.
Trog
I didn't learn until much later that this was actually a port of an arcade game of the same name. Growing up I loved Godzilla movies, and the opportunity to mercilessly rampage around a Pac-Man-like maze eating things was not something I was ever going to pass up. Looking back now the game really wasn't very good, but that didn't stop it from sitting in our NES for many hours.
Milon's Secret Castle
This was often remembered as a game that was nigh impossible to beat without Nintendo Power, and I take no shame in saying that, even to this day, I've never come close. This game holds a special place in my heart because of all the hours I sat and watched my brother play it (without Nintendo Power), and the many nights of frustration and controller throwing that it gave us. Of course, we were too young to know that the problem was the game itself, not our lackluster gaming skills.
Bad Dudes
Yes, even more mediocre ports have made their way on to my list! The NES port of Bad Dudes Vs. DragonNinja was another one of the rare games that supported simultaneous multiplayer, and the fact that it featured nunchucks (the coolest weapon ever) made me love it despite its flaws. While there's no disputing that it was a very technically flawed game, the interesting bosses and awesome music still bring back great memories.
Castlevania
I don't care what anyone says: this is my favorite Castlevania of all time. It's the first game I remember my mother purchasing for me at the pawnshop down the street from my house. The game cost a whopping $40, and I loved everything about it. As a child I wasn't nearly skilled enough to beat it, but many weekends were spent passing around the controller and fighting our way as far into the Dracula's domain as we could. We would leave the NES running for days with Castlevania loaded up at some new area we had made it to, and, inevitably, our mother would bump the system while cleaning and cause it to freeze. Never were two children filled with more rage than when the vacuum cleaner caught our controller cord and jerked the system when we were just moments from facing Dracula himself.