Jared peers into the future.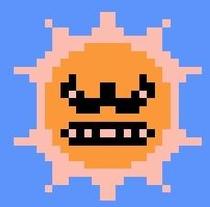 You may notice that the following predictions progress from feasible to absolutely absurd.
Monster Games, developers of Excitebots: Trick Racing and Pilotwings Resorts, will unveil a new F-Zero game for Project Café. It will feature a robust online mode with voice chat and take a page out of the Mario Kart playbook by offering retro tracks from previous titles.
Ken Levine of Irrational Games will demonstrate BioShock Infinite running on Project Café at the Nintendo Media Briefing. It will be a launch title.
The new 3DS Mario adventure will be called New Super Mario Bros. 3DS. Instead of Bowser, the Angry Sun from Super Mario Bros. 3 will be the main villain.
Atari Jaguar games will be made available on Virtual Console for the Wii. The first Atari Jaguar VC title will be Tempest 2000, Jeff Minter's update on the classic arcade game.

Have you ever dreamed of sitting in the driver seat of the Hess Truck? If so, Sega will have the driving simulator just for you. Hess Pro Trucker Deluxe for the 3DS will feature a campaign mode where players must deliver gas to all fifty states and the Northern Mariana Islands.