New F-Zero for 3DS? Yes Please!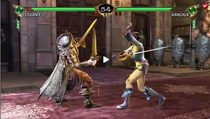 My E3 predictions are fairly safe in most regards, however, I do throw in a few crazier notions. Enjoy my ramblings.
Project Café
- Firstly, I think that this E3 could have a similar amount of show reel tech video demos, such as what we saw at Spaceworld 2000. Games such as Pikmin will be shown in the trailers, showcasing the HD visual fidelity. Not all games from the trailer will have a playable demo.
- The controller is not exactly how everyone assumes it will be. The screen could be detachable from the main controller. I think it could be more like a next-gen Dreamcast VMU. It could also function as your home screen during gameplay, to allow communication between friends and accessing other functions of the system.
- Nintendo will show several tech demos, with a few that will end up being full games. I think we do have a good chance at seeing a Pikmin tech demo at least, along with a major new IP. No Mario, Zelda or Metroid game will be shown for Café.
- Soul Calibur 5 is announced for Café launch.
Nintendo 3DS
- Super Mario is the star of the Nintendo lineup for 3DS. Plays quite differently from the Galaxy series. Its more of an open world game, where you are expected to explore.
- Mario Kart will be playable, and will offer a new twist to the series. The game will heavily feature online modes.
- Several eShop announcements will be made during the press conference. Nintendo will reveal titles that are much stronger than anything they did for Wiiware and DSiware.
- Animal Crossing will surprise everyone and show off a bunch of new things for the series. Will be a true Animal Crossing sequel.
- A new F-Zero will be announced for the 3DS. I think it makes more sense to revive the series for the handheld. 3D could make an impressive addition to the look and feel of the game, more so than simply having HD graphics on a home system.
Wii
- Skyward Sword is shown in greater detail finally. People who have not been as impressed with it so far, will finally starting getting excited. The game world will be almost seamless, with little load times between areas.
- Xenoblade and The Last Story are shown with Xenoblade announced for a September release.
- One more major Wii release will be announced, and will launch later this year.
Nintendo DS
- Nothing from Nintendo will be shown in regards to the DS.
- Some minor third party titles may be announced.