There are still Japanese Wii and DS titles out there that can leave Japan, ya know!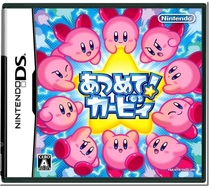 Every year for over a decade, I have paid close attention to E3, in particular to Nintendo's showing. Some years, it is unbelievably awesome, while other years, as a Nintendo fan, you want to drown yourself in a dirty toilet. With details on Project Café set to be revealed, there is going to be some exciting news coming out of Nintendo's conference. That coupled with news coming from the handheld front and a few surprises from the Wii, Nintendo fans should have a lot to look forward to. Here's what I think will go down at this year with Nintendo.
Wii
This is definitely going to be the last true showing for anything Wii at an E3. Some of the obvious candidates that Nintendo will show off during the conference for the console will be The Legend of Zelda: Skyward Sword and Wii Play: Motion. Zelda will be announced for a holiday release (November-ish) just in time to fit in with the 25 year anniversary.
Nintendo will then at the very least announce Xenoblade and The Last Story for North America. The Last Story will get the same treatment as Xenoblade in the form of having a dual audio options (Japanese and English) and subtitles in English, Spanish, and French. Xenoblade will see a release in North America in October/November and The Last Story will see a release before the end of the year. Pandora's Tower will also be mentioned at the press conference and will be playable on the show floor. It will release in North American and Europe in Q1 2012.
Nintendo DS
Atsumete! Kirby, the DS Kirby title set to be released on July 7 in Japan, will be announced for North America and will see an October/November release. It will be one of the last big titles on the Nintendo DS.
Nintendo 3DS
Super Mario 3D will take front and center at the conference and really show what kind of horse power is under the hood. It will be playable on the show floor but will not get a solid release date, but rather an ambiguous 2012 release date. Mario Kart 3D will also be heavily featured during the press conference and will feature a competent online mode and StreetPass and SpotPass capabilities. Mario Kart 3D will be the big title for the 3DS this holiday season, launching in mid-November.
Star Fox 64 3D will get a solid release date outside of Japan (where it's currently slated for a July 14 release), possibly coming at the end of July. Kid Icarus: Uprising will also get a solid release date in the "Metroid" slot in late August.
A Super Smash Bros. title will be announced for the 3DS, but will not release until 2012. It will be available at the show in video form and feature third party characters from Capcom, Konami, Sega, and Namco.
Project Café
A hardware shell will be shown off at the show, letting the industry know what Nintendo's latest home console will look like. It will keep a sleek design, but will be a bit larger than the Wii. As stated previously, the system will be backwards compatible with the Wii but not the GameCube. Nintendo will purposely leave that out support so they can sell the games again via an updated Virtual Console that features classic GCN games. Virtual Console titles and Wii Ware purchased on the Wii will be transferable Café.
The controller will be shown off as will a handful of tech demos showing what the new touch enabled hybrid controller can do. Since Nintendo the new console is super developer friendly, I won't be surprised to see the likes of Activision, EA, and Rockstar putting some top tier franchises on the Café and really utilizing the technology behind the controller. Rockstar will announce an exclusive open world title for the Café (ala GTA, Red Dead, L.A. Noir), though the title will see release on the Playstation 3 and Xbox 360 at a later time. The Café version will be the definitive version of this title.
Nintendo will disappoint fans with storage on their machine. They will go with an efficient, but cheap answer, possibly continuing with flash memory, but the console won't feature memory larger than 8 – 16 GB. The hardware will be slightly more powerful than the PS3 and Xbox 360, with visuals and other technical attributes being slightly better on Nintendo's next console.
Console reveals are always an awesome thing to behold at E3. It's definitely going to be an exciting show.