We've played the games, discussed them in our podcast, now find out what we chose as our best games from the show.
E3 is all about the glitz, the games, and most importantly the announcements. Fittingly, we call our best games of E3 "The Megatons."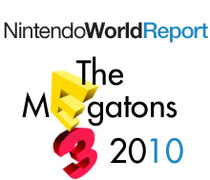 Wii Game of Show: Kirby's Epic Yarn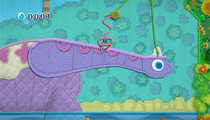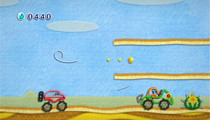 Dino wrangling and dune buggy racing
Kirby's Epic Yarn integrates style and gameplay in a way all its own. Rendered entirely in yarn, fabric, buttons, and patches, Epic Yarn depicts the cute and cuddly Kirby out of material befitting his character. The art style is part of the game mechanics in this 2D platformer. Kirby lashes out with a thread of yarn to interact with the textile terrain. Despite foregoing Kirby's traditional floating and power copying abilities, the pink puff still feels at home in this, our best Wii game of E3.
Honorable mentions:
The Legend of Zelda: Skyward Sword
As you would expect, Skyward Sword makes the list. New controls bring new possibilities with the smooth, polished exterior that is to be expected from Zelda titles. We think this game looks very promising, but we'll need more time playing to see if it's really the best.
DK is back in this action packed platformer. It's faithful to the original SNES game with the return of mine carts and KONG letters while bringing in new additions such as Diddy's jet pack. The fast movements were a little difficult to keep up with, but with a little practice things should roll along.
Discuss our selections in the talkback